Down Sleeping Bags
The Sea to Summit down sleeping bags are warm as well as lightweight and have a small pack size. Buy a high-quality and durable sleeping bag made of down, which will let you sleep comfortably even in winter.
LIGHTWEIGHT & PACKABLE DOWN SLEEPING BAGS
Constructed using high quality lightweight fabrics, each of our compact and warm down sleeping bags have been specially engineered and shaped for the designed end use whilst maximising comfort and warmth, without sacrificing versatility or packability. Our purposefully constructed baffles keep insulation exactly where you need it, preventing cold spots and ensuring you stay warm during the night.
Whether you're looking for a technical minimalist, ultralight down sleeping bag for fast and light activities like bikepacking and thru-hiking where space and weight are a premium, or if you're looking for a down sleeping bag that's versatile enough for multi-season adventures, explore our range of exceptionally lightweight, warm and packable down sleeping bags.
WHY A DOWN SLEEPING BAG IS THE RIGHT CHOICE
In addition to our synthetic sleeping bags, down sleeping bags also offer several benefits. This is why a down sleeping bag can be just right for you:
Down provides more warmth for its weight, packs down smaller and lasts longer. The higher the down loft-power, the smaller the packed size and better the warmth-to-weight ratio. Therefore, down sleeping bags are especially popular for outdoor adventures in extreme cold or sub-zero temperatures or as a winter sleeping bag for trekking.
A favourite among campers and hikers, Sea to Summit's range of award-winning lightweight down sleeping bags offer the best warmth-to-packability ratio, comfort, and longevity.
Frequently Asked questions
Suitable for backpacking?

Yes. The small packed size and weight under a 1.5lbs make this mat ideal for backpacking and bike touring.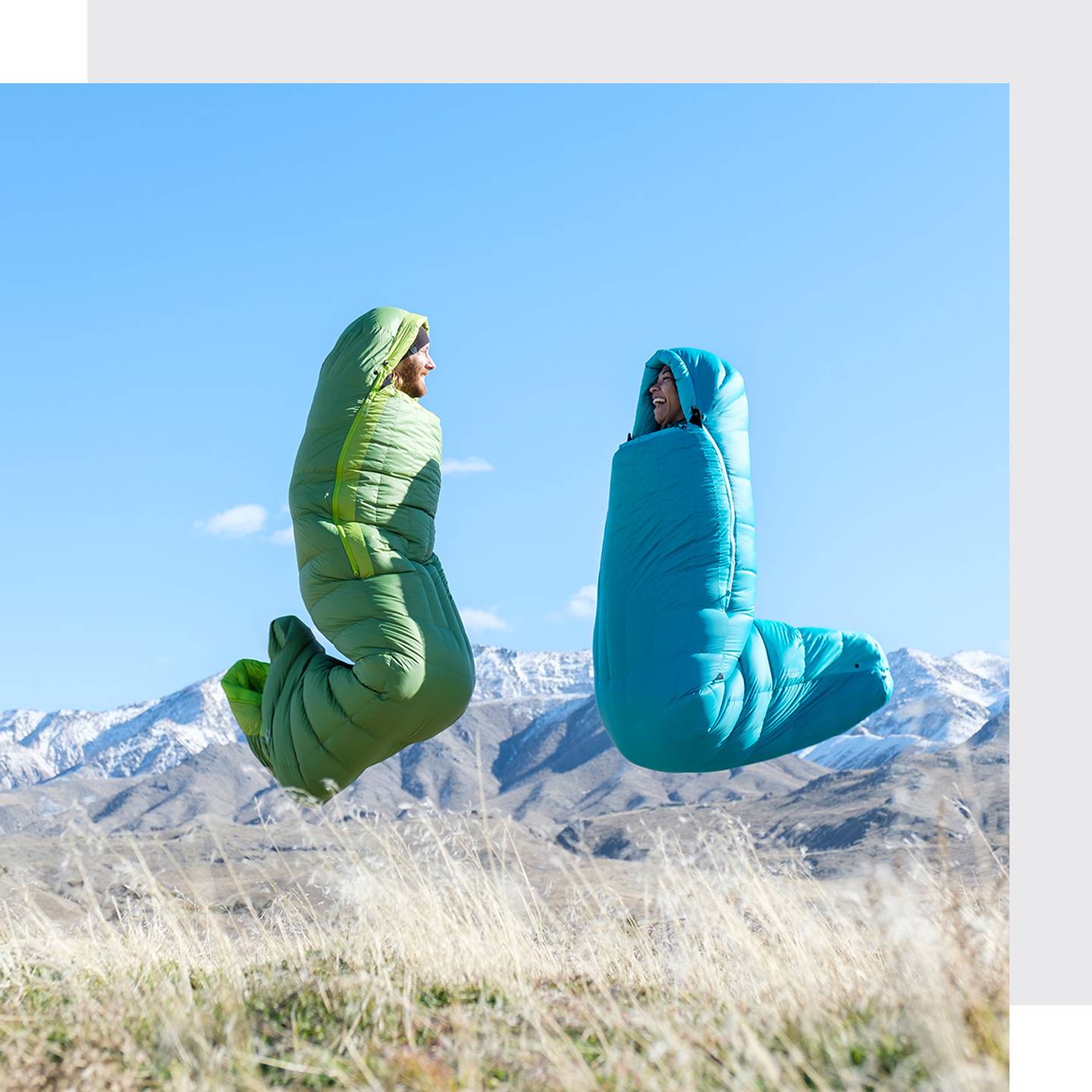 INNOVATIVE, RESPONSIBLE, CERTIFIED: SEA TO SUMMIT DOWN SLEEPING BAGS
Our down is independently certified (IDFL) for its quality and fill-power. We use body mapping and ergonomic shaping in the development of our down sleeping bags, and design a function-specific construction to put the right amount of insulation exactly where you need it.
Our down sleeping bags feature premium high lofting RDS certified ULTRA-DRY Down. This permanent nano-level water-repellent treatment applied to our down protects it from external moisture and condensation from inside the bag, ensuring they are high performing in both dry and damp conditions.
100% of the down used in our sleeping bags and quilts is independently certified to the Responsible Down Standard (RDS). The RDS certifies down against animal welfare requirements and tracks it from the source to the final product. The purchase of RDS certified products demonstrates demand for better animal welfare practices in the down and feather supply chain. Sea to Summit is certified to the RDS.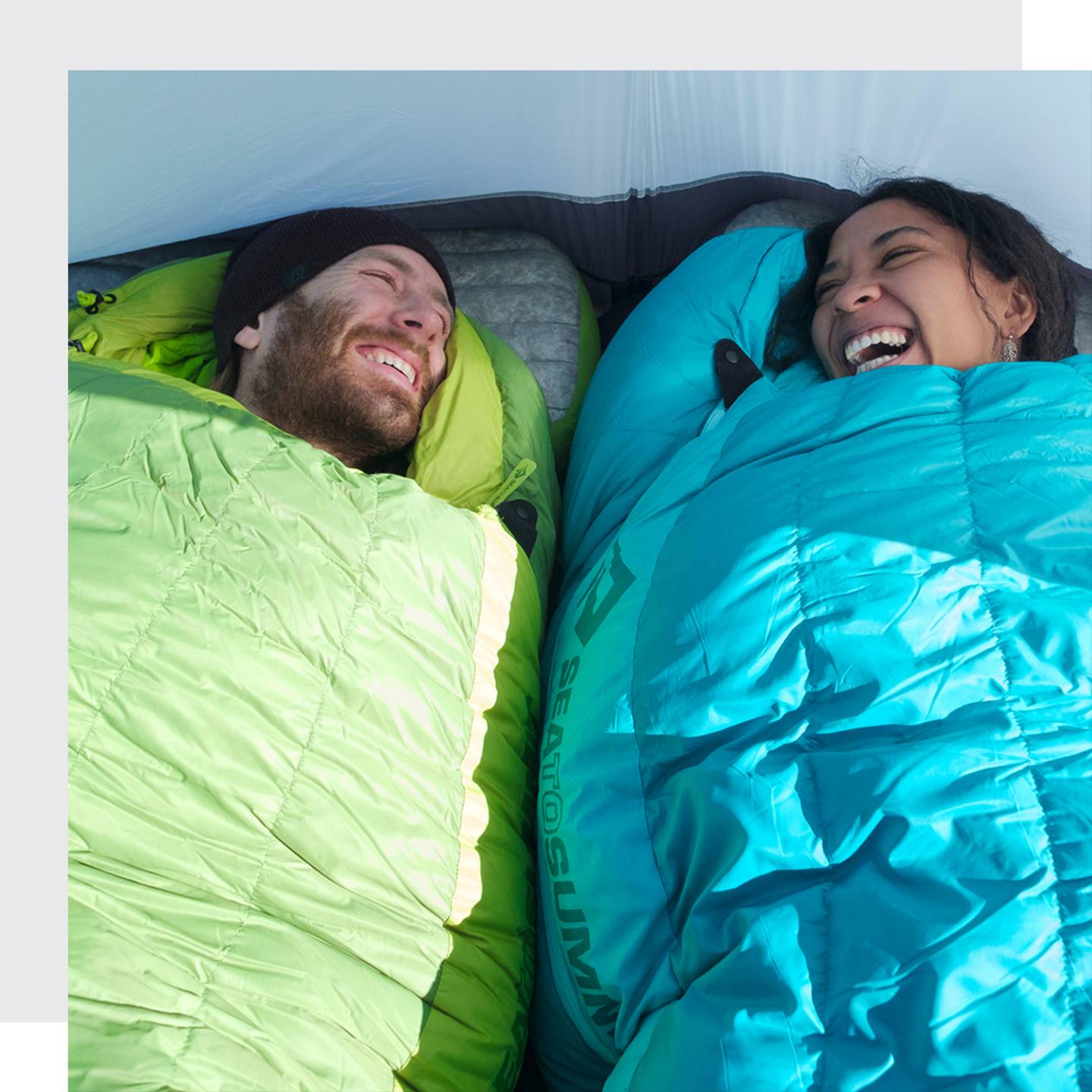 ULTRALIGHT, EXTREMELY WARM OR EXTRA WIDE? FIND YOUR DOWN SLEEPING BAG
What temperatures are you expecting at night on your next expedition? 10 degrees, 0 degrees or extreme cold? We have down sleeping bags for different temperature ranges – our warmest model even keeps you warm at -40 degrees Celsius.
At the same time, our products remain incredibly light. Some of our down sleeping bags weigh less than 1 kg. Our lightest model weighs only 200 g.
Moreover, you can choose the right size and shape for your purposes. Should it be a cosy mummy sleeping bag or a thin blanket sleeping bag? A small, compact sleeping bag, one for two people or a particularly warm down sleeping bag for ladies and cold sleepers? With us you will definitely find what you are looking for!
In addition, our sleeping bags come with some nifty design details that will make your nights even more relaxing. Simply browse through our outdoor online store and order the down sleeping bag of your choice. We will deliver it climate neutrally to your doorstep within a few days.