Sleeping Bags
We offer a range of sleeping bags from backpacking ultralight to car-camping comfort. Built for all seasons and designed for people of all shapes and sizes. Find the bag that really fits you – and fits your adventure.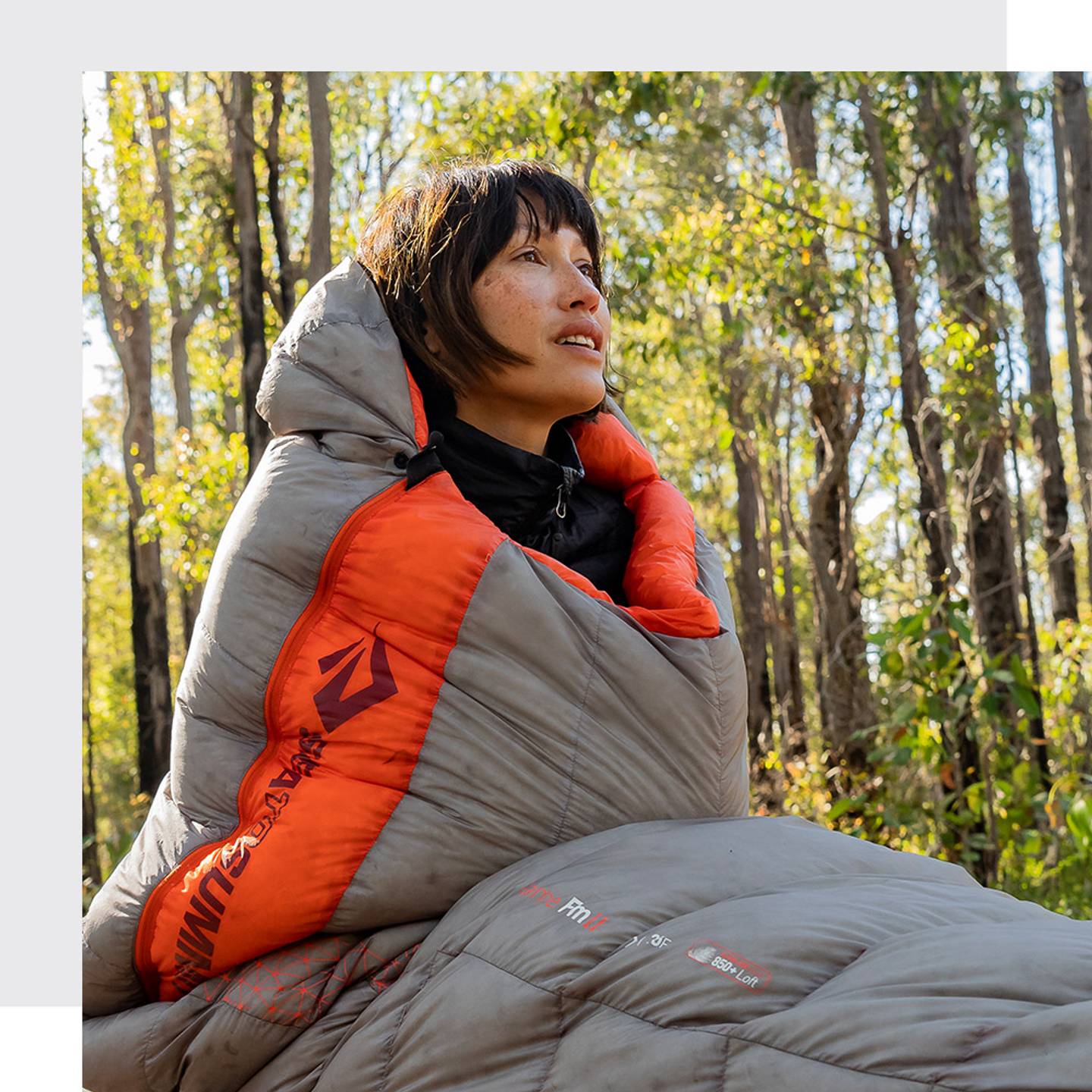 Lightweight technical
CAMPING & HIKING SLEEPING BAGS WITH LITTLE WEIGHT
A sleeping bag serves as a layer of insulation around your body. The shape, construction and placement of insulation within the bag are key or your warmth will be lost into the air. Our award-winning technical synthetic and down sleeping bags, as well as our quilts are engineered to help you get a better night's sleep outdoors. Ideal for camping, hiking and travel, our Sea to Summit sleeping bags are made from high-quality lightweight materials, Responsible Down Standard down and premium synthetic insulation, providing superior comfort, warmth, packability and versatility.
EXTRA SMALL OR ULTRALIGHT? BUY SLEEPING BAGS FROM SEA TO SUMMIT
Our range of lightweight camping and outdoor sleeping bags have been made with thoughtful design details, such as:
Free-Flow Zip System for different sleeping and ventilation options
Zip-Coupling that allows you to connect two sleeping bags
QuiltLock System for non-slip sleep
Most of our models are protected from condensation and moisture in an eco friendly way. We offer sleeping bags in different sizes, shapes, materials and warmth levels. That way, you are guaranteed to find what you are looking for!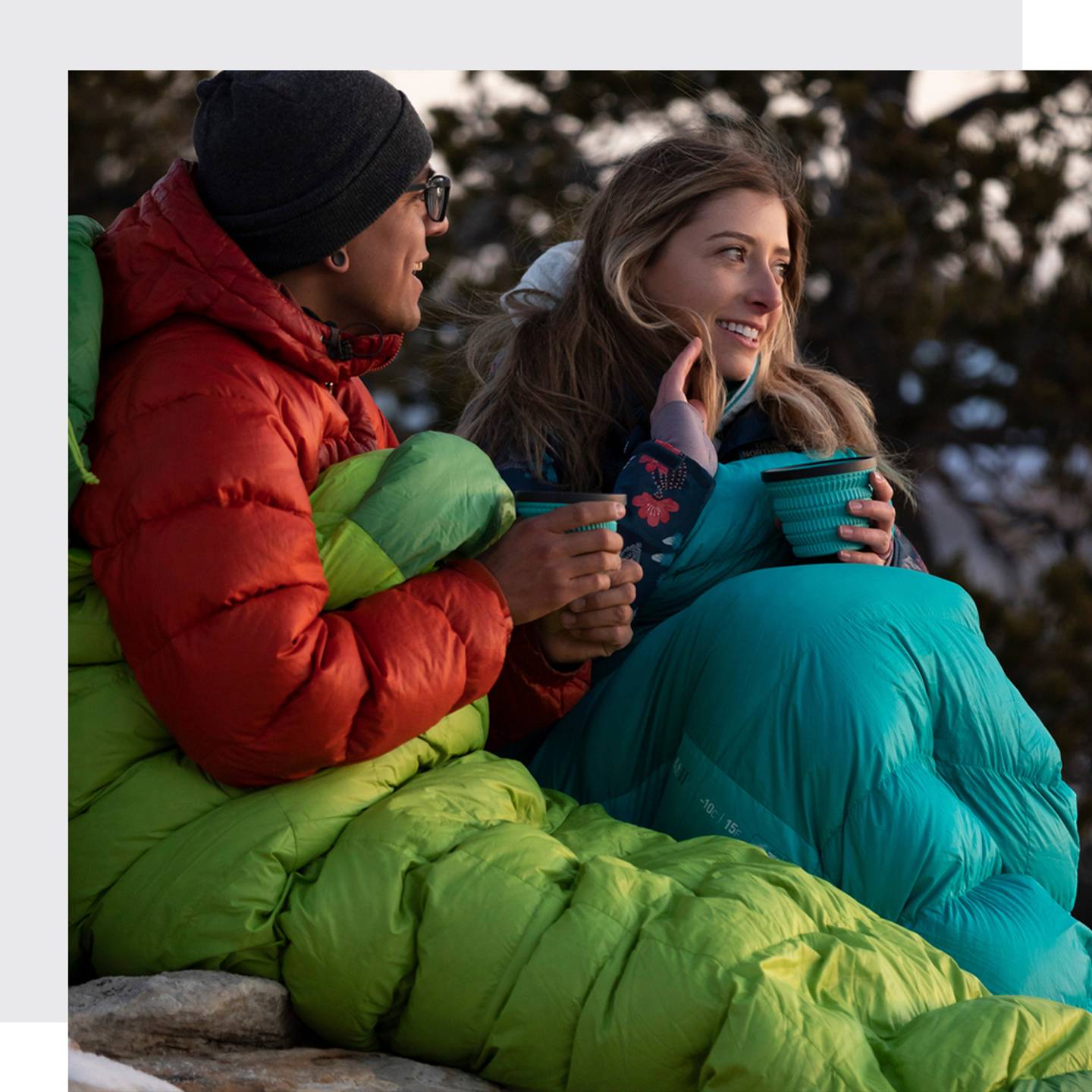 THE RIGHT SLEEPING BAG FOR EVERY TEMPERATURE
Are you planning to camp in the Mediterranean or would you rather go alpine trekking? In any case, we have the right sleeping bag for you, which is not only light and packable but also suitable for the climatic conditions on your tour.
These are the questions you should ask yourself regarding temperature when buying your sleeping bag:
Do you have a well-insulated sleeping mat and sleeping bag liner to protect you from rising cold?
Are you sleeping in a tent, in a cabin, outdoors, or perhaps in a particularly windy and exposed location?
Do you get cold quickly while sleeping or do you stay warm?
Do you have a fast or slow metabolism?
Do you carry warm and dry clothes?
How many calories do you consume during the day?
On our website, you can find sleeping bags tested according to EN13537 and classified into three different temperature ranges. These will help you choose the right sleeping bag for your needs:
Comfort: Women and cold sleepers can sleep relaxed at this temperature.
Lower Limit: A man and warm sleepers can sleep well at these temperatures in a curled up position.
Extreme: In this temperature range, most people freeze severely and can become hypothermic.
Our sleeping bags for women are all marked Comfort. The unisex models fall into the Lower Limit category. When choosing your sleeping bag, consider the coldest temperature you can expect during the night and tendentially opt for a warmer model.
WARM SLEEPING BAGS FOR WOMEN
Women usually have a different perception of cold than men. Therefore, we develop specific models for their needs. Our sleeping bags for women offer extra warmth where it is needed and a shape that's perfect for side sleeping. This allows you to sleep comfortably and relaxed in any position without freezing.
BUY YOUR SLEEPING BAG ONLINE
No matter where your next adventure or travel takes you, you'll stay comfortable and warm in our light Sea to Summit sleeping bags. Browse our range of ultra-lightweight, outdoor and camping sleeping bags above and get climate-neutral shipping of all our outdoor gear. Buy a high quality Sea to Summit sleeping bag in our outdoor online shop now.