Tents & Tarps by Sea to Summit
Buy ultralight backpacking tents online – more space, superior ventilation, unmatched versatility. Whether for camping, trekking or hiking, our outdoor tents, tarps, and shelters are the perfect companions for your next adventure.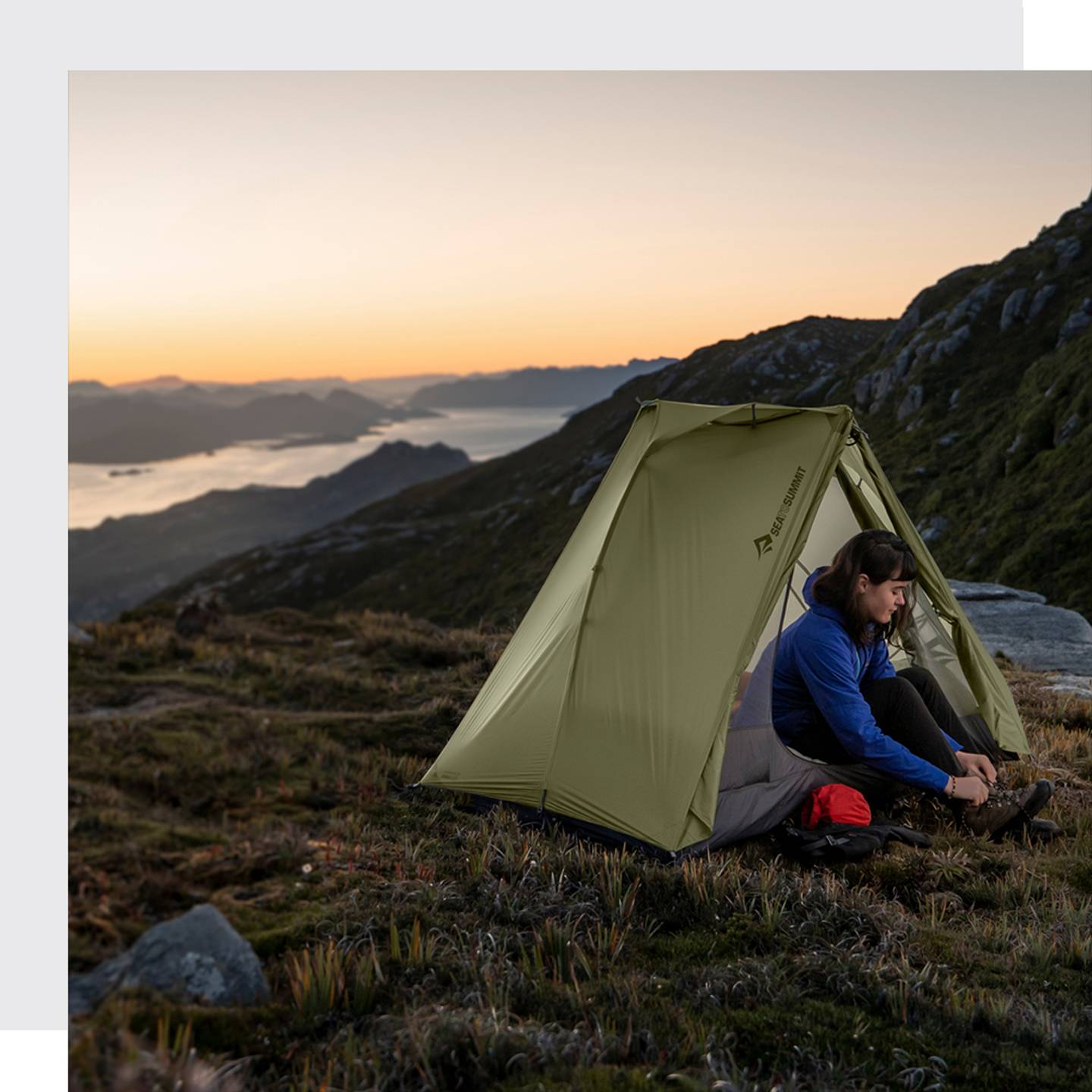 BUY TENTS FOR 1 TO 3 PEOPLE & ACCESSORIES
Our Outdoor Online Shop offers a wide selection of high-quality, ultralight tents with vertical walls and clever features. You will find lightweight 1-man tents, 2-person tents and outdoor tents for 3 people as well as bikepacking tents, inner tents and camping tarps. We also have the right tent accessories ready for you: tent pegs, groundsheets, insect nets, ponchos and more.
THE TECHNOLOGY OF OUR LIGHT & SPACIOUS BACKPACKING TENTS
With us, you don't just buy any tent, you buy the best and lightest backpacking tent we could imagine. We looked at the good, the bad and the ugly of ultralight tents to develop the ideal tents for backpackers, campers and hikers. And we found: tents don't have to be claustrophobic to be ultralight.
The secret behind our roomy and lightweight tents? Our unique Tension Ridge architecture. The wing-like structure slopes upward, increasing ceiling height – without increasing floor space. Another plus: Thanks to Tension Ridge, the vents are very high. This results in better ventilation and less condensation.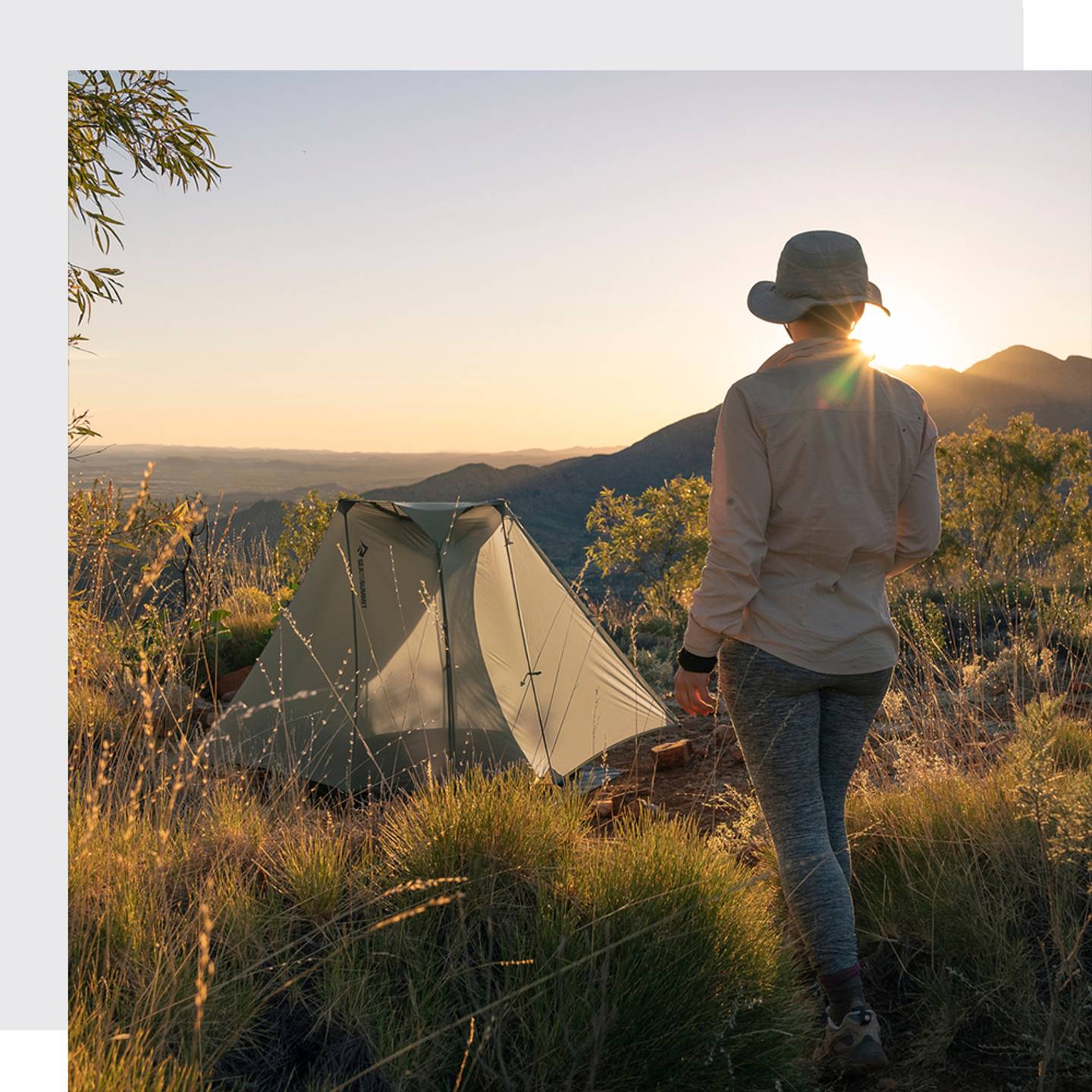 FIND YOUR WAY IN OUR RANGE OF PRODUCTS
Do you want to buy a tent for 1, 2 or 3 people? For backpacking or any other outdoor activity? Are you looking for a lightweight trekking tent weighing less than 1 kg or 2 kg? But you still lack insight into our diverse range of products? Here is a brief overview of our product series:
Telos tents: fully equipped, freestanding and with several set-up configurations, for 2 to 3 people, from 1,5 kg
Alto tents: semi-freestanding and ultralight, for 1 to 2 people, from 0,9 kg
Ikos tents: versatile setup options with plenty of space and comfort, for 2 to 3 persons, from 2.2 kg
Freestanding tents are held up by their structure alone. They do not require pegs and are suitable for any terrain.
Semi-freestanding tents are held up by a combination of tent poles, guy lines, and pegs – for optimized pack size and weight.
→ Choose a semi-freestanding Telos tent if you want a comfortable award-winning tent for any terrain – without pegs.
→ Choose a semi-freestanding Alto tent if you want our lightest tent to give you plenty of space – on any ground where you can place pegs.
→ Choose an Ikos tent for everyday backpacking and extra comfort.
BUY OUTDOOR TENTS FOR 1, 2 OR 3 PEOPLE ONLINE
Do you need a lightweight tent for 1 person, a 2-person tent or a trekking tent for 3 people? This and more, you can find in our online shop. Order with a few clicks and receive your climate-neutrally delivered package at your doorstep a few days later. Your new outdoor equipment is already waiting for you!