X-Set 12
Highlights

INCLUDES: X-Pot/Kettle 2.2L, 2 X-Bowls & 2 X-Mugs

PERFECT FOR: 2 People

WEIGHT: 20.6 oz | 584 g

COOKWARE MATERIAL: BPA free, food grade, heat resistant silicone and hard anodized 6063-T6 aluminum base
Shipping & Returns

We use climate-neutral shipping with DHL GoGreen.

For orders with a value below 75€ we charge a shipping fee of 4,95€. We do not charge shipping fees for orders with a value over 75€.

All orders received by 12:00 noon on weekdays are usually shipped the same day. Later orders are usually dispatched the following working day.

Delivery time can take up to three working days Germany-wide and up to four working days for orders outside of Germany, and depends on the shipping service provider.

All orders can be returned within 14 days of purchase. However, for the sake of the environment, please make sure to keep returns as low as possible.
Find Locally
Description
The X-Set 12 is the ultimate compact two-person kitchen set. Featuring the X-Pot Kettle, two X-Bowls and X-Mugs, it has all your camp meals and hot beverages covered.

The generous 2L X-Pot Kettle is made from an ultralight hard anodized aluminum base with collapsible food-grade silicone sidewalls, allowing it to pack down flat and nest the X-Bowls and X-mugs. Plus the double glass-reinforced nylon 66 handles and a built-in spout makes pouring your beverage of choice a breeze.

The whole space-saving set packs down to 40 mm height and weighs only 584 g.
TECHNICAL FEATURES
FOOD GRADE HEAT RESISTANT SILICONE (COOKWARE)
FOOD GRADE HEAT RESISTANT SILICONE (COOKWARE)
Like all materials used in Sea to Summit cookware products, the heat-resistant silicone used in the X-Series is BPA-free. It is certified to both EU and FDA food grade standards, which signifies very low absorption of external materials. It is also heat resistant to 220°C and doesn't crack in the cold.
BPA FREE
BPA FREE
These products are all Bisphenol-a (BPA) free, which means you can have peace of mind while eating and drinking from these products.
Tech specs
Best Use

Camping, Backpacking, Mountaineering, Bike Touring

Cookware Material

Silicone walls

Includes

X-Pot/Kettle 2.2L, 2 X-Bowls & 2 X-Mugs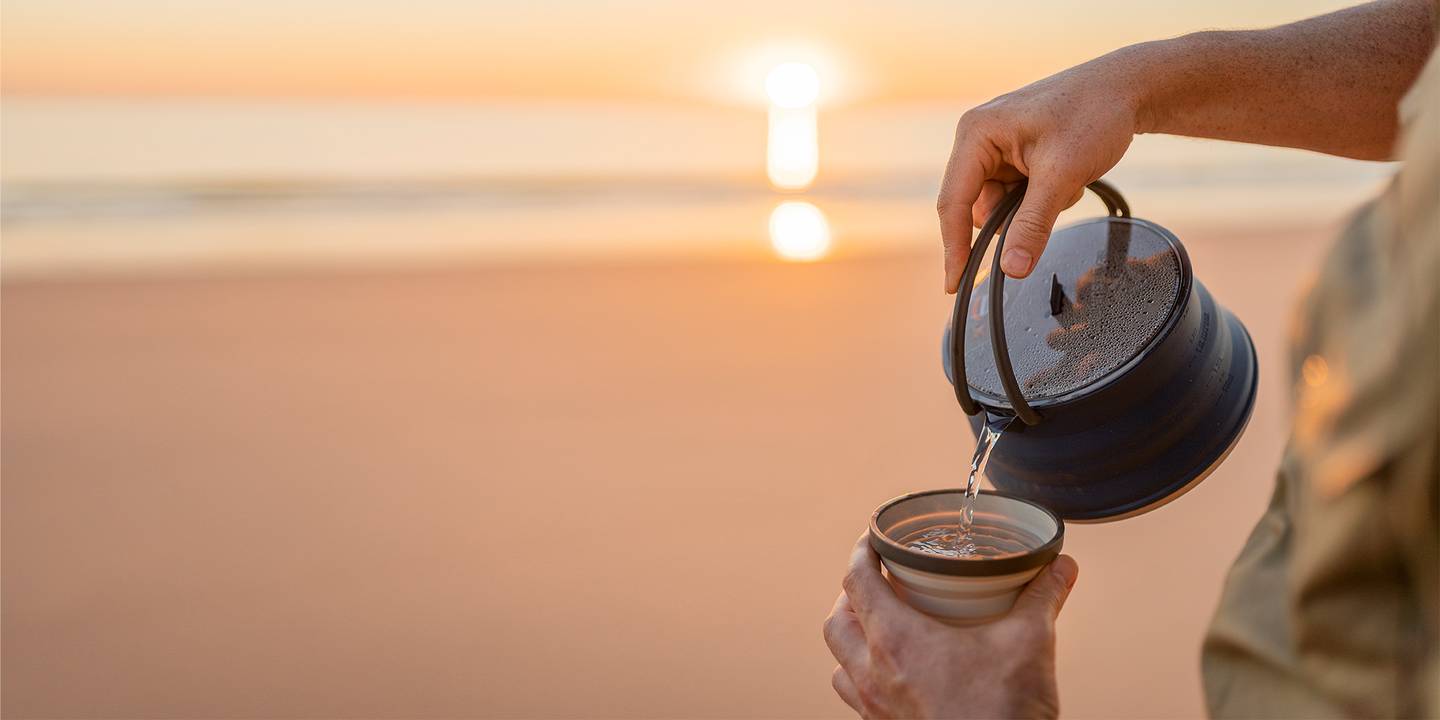 SET DETAILS
X-POT KETTLE
The perfect all-in-one camp kitchen solution for fast and light adventures, use it to boil water or as an all-rounder cooking pot.
---
X-MUGS
A 480 ml capacity mug that is also calibrated as a measuring cup, perfect for all your favourite camp beverages.
---
X-BOWLS
A multifunctional camp bowl that packs flat and also doubles as a cutting board when flipped upside down.
Frequently Asked questions
Be used on a domestic stove?

Domestic stoves have a much higher output than backpacking stoves. If X Cookware is used with a home stove, the heat setting should be kept low, and care should be taken to ensure that the pot does not boil dry.
Be used on an induction stove?

No. The alloy base is not magnetic, so induction stoves won't work. Caution is needed with high output stoves – the X Cookware can quickly boil dry if not watched.
Be washed in a dishwasher?

No. The caustic cleanser will damage the anodization.
Compatible with other X-Products?

Absolutely. All X Cookware and Dinnerware is designed around common dimensions. Cups, plates and bowls will all nest together to reduce storage space.
Be used on open fires?

No. Open flames are unpredictable. The heat rising up the sides of the pot will damage the silicone rubber and would almost certainly melt the lid and damage the handles.
Be used with a two-burner camp stove?

Yes. The key is to keep the flame pattern of the burner inside the ring printed on the base of the pot (and keep the heat lower – the base conducts heat really well).
More versatile than other cooksets?

Yes! Measure liquids with the X-Mugs, chop ingredients on the base of the X-Bowls or pour and strain using the pinchable silicone rubber sides.
Only for camp stoves?

The X-Pot Kettle can be used on a domestic stove with caution. The flame should be smaller than the base of the X-Kettle, and a lower flame setting used to make sure it doesn't boil dry. X-Kettles will not work on induction stoves.