Self-Inflating Sleeping Mats
Perfect for comfort focused campers, our self-inflating sleeping mats provide the comfort and support of a traditional bedroom mattress without the weight and bulk.
| | Comfort Deluxe Self Inflating | Camp Plus Self Inflating | Comfort Light Self Inflating | Ultralight Self Inflating |
| --- | --- | --- | --- | --- |
| Price | 199,95 € - 329,95 € | 89,99 € - 119,99 € | 109,95 € - 139,95 € | 79,95 € - 99,95 € |
| Highlights | Luxury, warmth, large pack size | Comfort, warmth, entry-level | Lighweight, comfort, warmth | Lightweight, packable, durable |
| Best Use | Overlanding | Car Camping/Vanlife | Backpacking | Backpacking |
| Season Rating | 4 | 4 | 3 | 2 |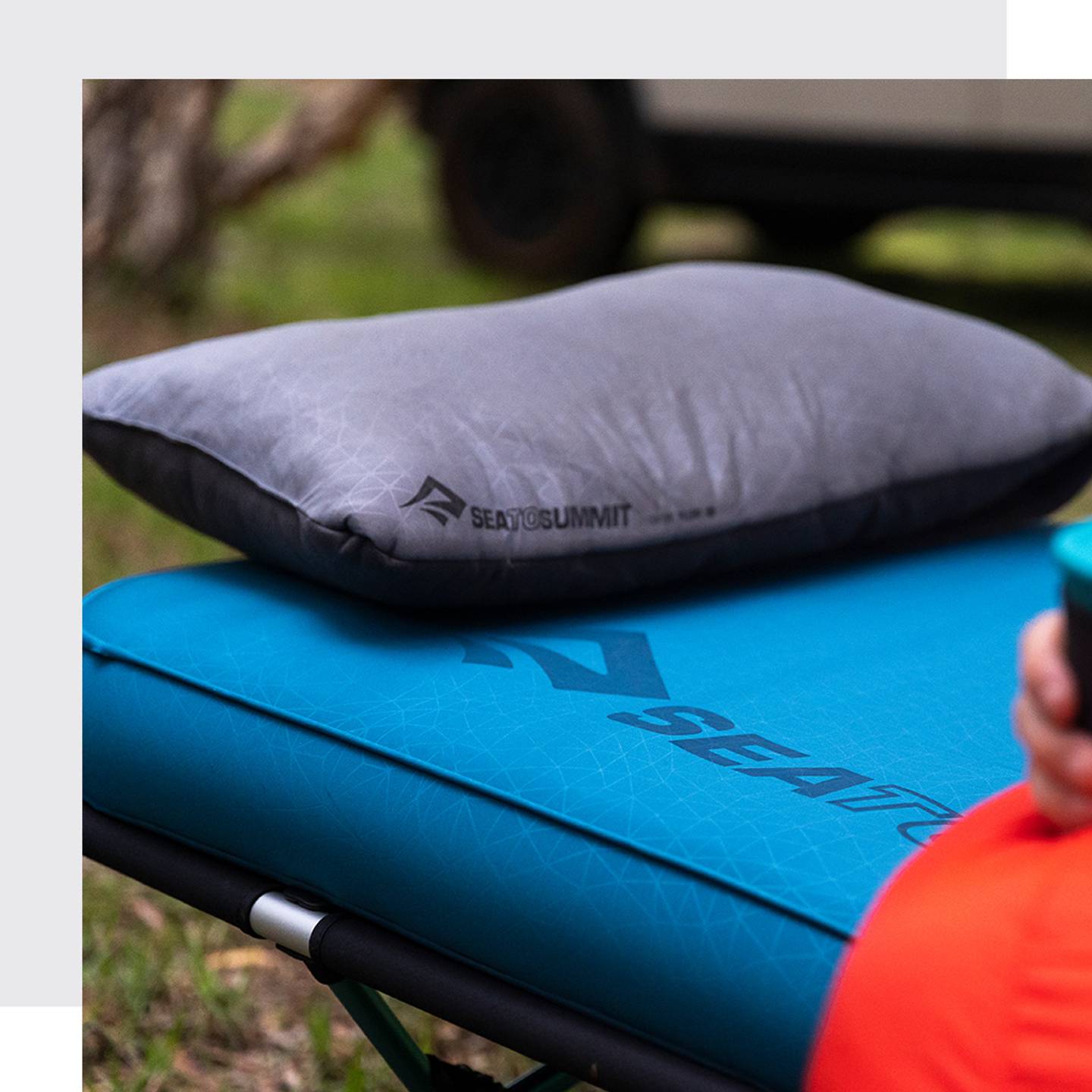 FOAM CORE MATS: SELF-INFLATING & LIGHT
Next to the Sea to Summit thermo air mattresses, our range of light, self-inflating sleeping mats is the foundation for a good night's sleep – whether you're hiking on a trail or camping in the wild. Using a combination of air pressure, foam and soft fabrics, self-inflating mats provide the comfort and support of a traditional bedroom mattress without the weight and bulk.
Our Delta Core and Delta Core-V process makes our self-inflating sleeping mats incredibly warm, compact, and comfortable. Our innovative design strategically removes cores of PU foam where they're no longer needed, which makes them lighter to carry, whilst not compromising on warmth. Browse above to see our full range of self-inflating sleeping mats online.
OUR SELF-INFLATING MATS AT A GLANCE
In our Outdoor Online Shop, you will find ultralight sleeping mats in various designs. Choose your mattress individually to get the best sleeping comfort for your outdoor adventure. Luxurious and warm or lightweight and packable? We have the right sleeping mat for any hike, bikepacking tour, camping trip or for vanlife. These are some of the features our self-inflating sleeping mats have:
The sleeping mats with high-quality foam are suitable for up to four different seasons. Thanks to an R-value of 2.6 to 6.5, they provide excellent heat storage.
Our self-inflating sleeping mats are 2.5 cm to 10 cm thick - they offer optimal comfort and a light luggage at the same time.
The pack size of our self-inflating mats ranges from large (18 x 67 cm) to small (11 x 28 cm) – you can take our lightweight sleeping mats with you on a backpacking trip.
Pack ultralight or go for super comfort? Our mats can do both: their weight varies between 395 g and 1,995 g.
Whether in a one man tent or in a camper van – each of our self-inflating models comes in different sizes: from extra small to regular, rectangular and large to sizes for two people or the camper van.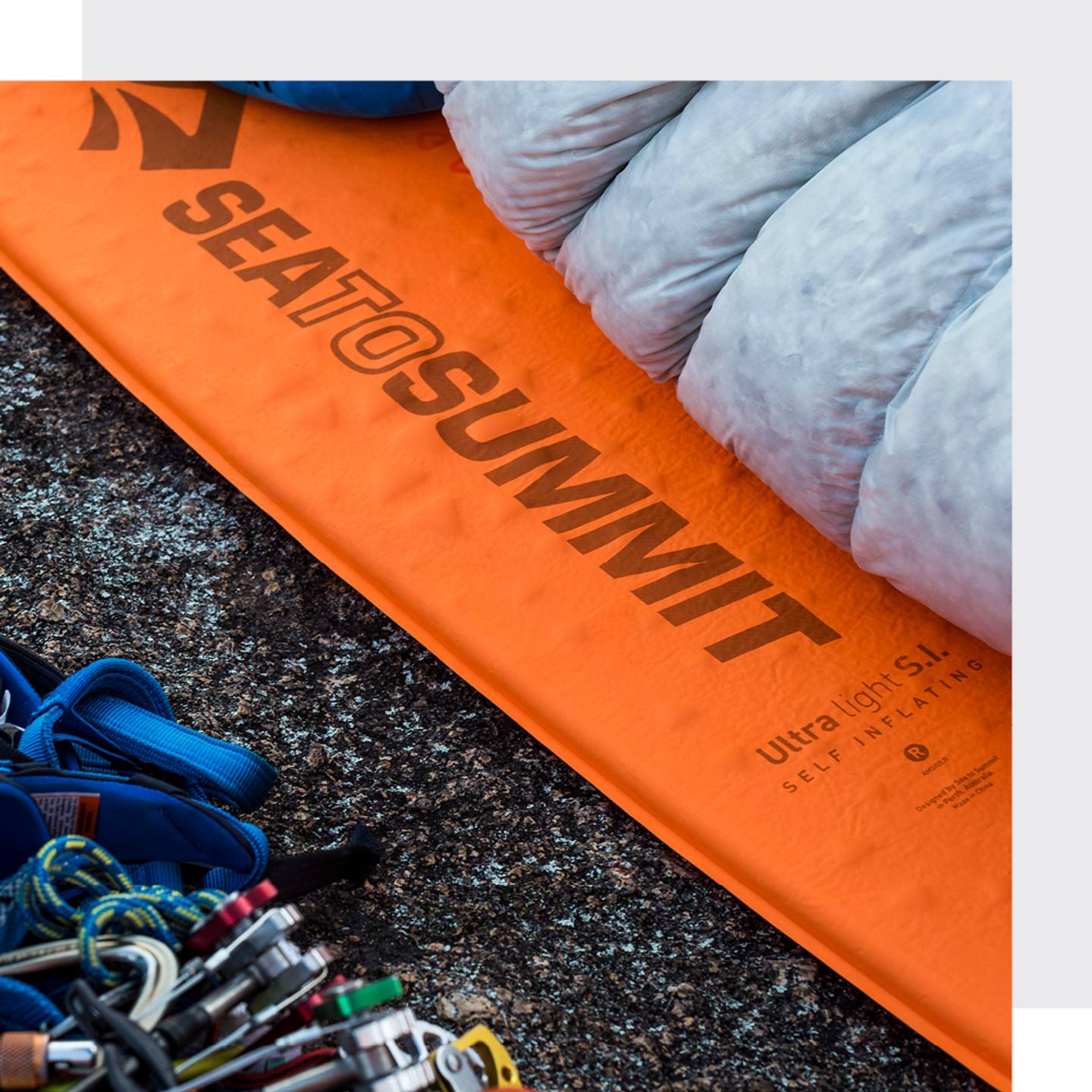 SELF-INFLATING SLEEPING MAT OR AIR SLEEPING MAT?
All of our sleeping mats are lightweight and comfortable. But which one is the best for your purposes?
Self-inflating sleeping mat:
Focus: comfort
Stable and comfortable thanks to foam filling
Minimal noise emission
Suitable for: relaxed camping trips or vanlife
Air sleeping mat:
Focus: low weight and pack size
Light and compact thanks to air cells
Suitable for: demanding trekking tours or camping trips with limited space
When making your choice, consider the temperatures you can expect on your adventure, how heavy and bulky your luggage can be and how important comfort is to you. In our store you will find the right sleeping mat for your individual needs.
BUY SELF-INFLATING SLEEPING MATS ONLINE
Order your self-inflating mat online now. We will send it to you within a few days with DHL GoGreen. Pay with the method of your choice, receive your high-quality sleeping mat comfortably at your doorstep or have it delivered to the parcel store of your choice. Do you have any questions or suggestions? Our customer service is happy to help you out.