Thermo Air Mats with Air Sprung Cell Technology
Light and compact, our air mats are built with hundreds of air pockets providing stability, comfort and lightweight packability. Each air mat includes a built-in pump stuff sack inflating most mats in 2-3 breaths.
| | Ether Light XT Extreme | Ether Light XT Insulated | Comfort Light Insulated | Ultralight Air |
| --- | --- | --- | --- | --- |
| Price | 239,95 € - 279,95 € | 194,95 € - 239,95 € | €189,95- 209,95 € | 114,95 € - 139,95 € |
| Weight | Lightweight | Ultralight | Lightweight | Ultralight |
| Weight (g) | From 720 g | From 470 g | From 640 g | From 345 g |
| Best Use | Cold weather backpacking | Backpacking, Bikepacking | Backpacking | Ultralight Backpacking, Bikepacking |
| Season Rating | 4 | 3 | 3 | 1.5 |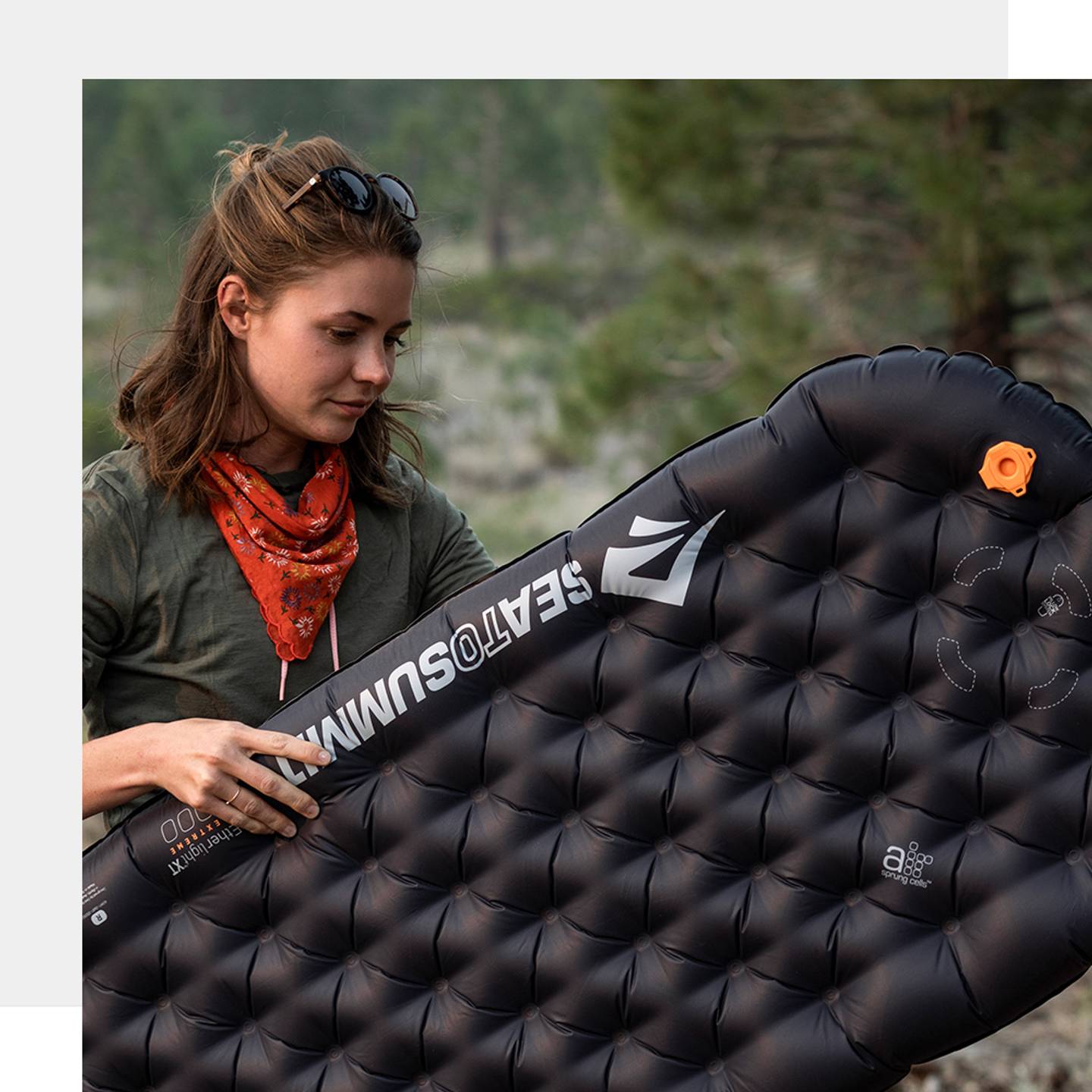 INFLATABLE SLEEPING MAT WITH AIR SPRUNG CELL TECHNOLOGY
Next to our self-inflating mats, Sea to Summit's range of award-winning camping and air sprung cell sleeping mats offers incredible comfort in a lightweight and compact package. They are ideal for ultralight and fast adventures where weight and pack size are critical.
The air sprung cells are the core technology of our ultralight thermo air mattresses – and the reason why you will sleep better outdoors. Instead of the typical baffle construction of an inflatable mattress, our Air Sprung Cell sleeping mats are insulated and constructed using a dot-weld pattern. This creates a matrix of interconnected chambers that support your body, much like a pocket spring mattress. Each cell of the thermo mattress performs independently, conforming to your body shape, providing more contact areas and even dispersion of pressure—and won't wobble or become unbalanced when you roll over at night.
THESE ARE THE FEATURES OF OUR THERMO AIR MATTRESSES
Our thermo air mattresses with Air Sprung Cell technology are 5 to 10 cm thick – that way you can choose the right packing size and sleep comfortably on any surface.
Your sleeping mat for the winter: Our extra warm sleeping mats Ether Light XT Extreme und Ether Light XT Extreme Women's are equipped with double THERMOLITE insulation. Especially for women, we offer mattresses with an ASTM R-value of 6.3 – goodbye frostbite!
Quiet as a mouse: Our thermo air mattresses are made of especially light and noiseless materials.
Thanks to antimicrobial Ultra Fresh treatment of the TPU coating, internal mold growth is prevented.
Each of our air mattresses comes with a Mat Repair Kit – a quick and easy fix in case of punctures that allows you to sleep soundly again.
These are by no means all the advantages our thermo air mattresses come up with. Click through the product range to learn more.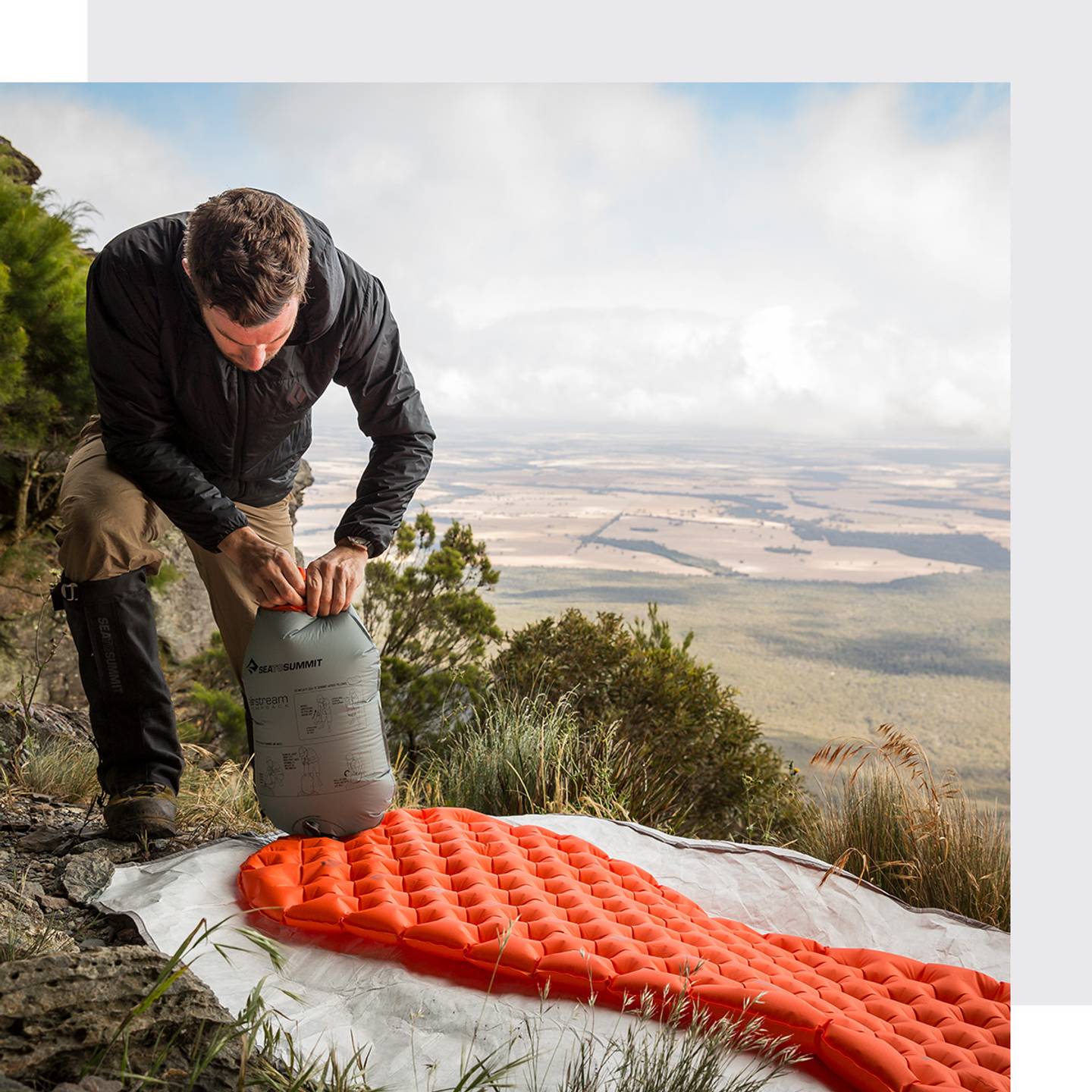 Design details
EASY INFLATION OF OUR THERMO-MATRESSES
After clocking up miles on the trails, the last thing you want to do is breathlessly blow up your ultralight sleeping mat. Instead of relying on a typical inflatable mattress on your next camping or hiking trip, our Air Sprung Cell mats have an Airstream Pumpsack integrated into the base of each stuff sack, making inflation quick and easy.
Harnessing the Bernoulli effect, this handy pump can inflate your mat in a couple of moves - with minimal effort and condensation. Your benefit: unlike breathing air, the pump does not carry as much moisture into the mattress. This prevents mold and enables you to enjoy your sleeping mat for a long time.
WHICH SLEEPING MAT IS RIGHT FOR YOU?
Thermo air mattresses are lightweight and compact. Are you planning a trip with ultralight luggage or do you have little space in your campervan? In that case, you should go for air mattresses with a small pack size. For ultimate comfort, choose a self-inflating mattress, which is particularly soft and stable thanks to its foam filling. This is ideal if you don't mind a few extra grams on your adventure.
BUY YOUR THERMO AIR MATTRESS ONLINE
Discover the wide range of our Outdoor Online Shop. Order your new thermo air mattress and matching accessories with just a few clicks. Quickly receive the equipment for your next camping trip or backpacking tour at your doorstep or in a nearby parcel store. We are happy to answer any questions you may have.